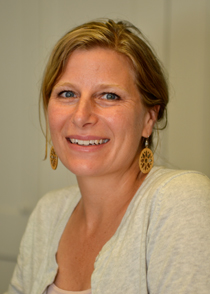 The Rev. Robin Junker-Boyce and her family.
Our Pastor
Pastor Robin began her ministry among us as our Settled Pastor on December 1, 2015.
Robin received a B.S. in Biology from Boston College in 1993 and a Master's degree in Psychology and Religious Studies from Andover Newton Theological School in 1997 with an extended focus on hospital chaplaincy. In 2002, she was ordained in the United Church of Christ at Old North Church in Marblehead, MA. In May of 2014, she completed a fruitful 12 year ministerial post at Bethany Church, UCC in Randolph, VT and began a sabbatical year to write on Contemplative Prayer and to spend quality time with her husband, Sean, and her three boys, Fritz, Ulysses and Charlie. The two greatest highlights of her past ministry were the implementation of a contemplative prayer community for adults and the creation of a vibrant youth ministry in which over 30 teens could be found meditating each Friday night in the basement of her church. If she had to narrow down her many passions, they would be preaching, community building, youth work, contemplative prayer and the study of the intersection between science and spirituality.
Message from Robin:
Dear Friends,
I will be taking the first two or three months of my ministry to determine a work schedule that best suits our community's culture as well as my family's rhythms. I assume it will take several "rough drafts" to determine the most beneficial configuration of hours along with expectations regarding email and phone-call turn around time. There will be hours I will work in my office, and others I will work from home, and other hours will be spent on the road for visitation/conferences/clergy support and wider UCC business. My time will be divided into pockets of time for study, spiritual practice, worship preparation, programing, administration, etc. During the next few months of this transition, I will be graciously supported by our Deacons, Board, Administrative Assistant, Terry, and our Calling and Care Coordinator, Eleanor, to assure that pastoral concerns, celebrations, and questions are lifted up and attended to in a timely manner. Thank you for all your support in the beginning stages of my ministry!
To reach Robin by email, use pastor@thetfordhillchurch.org. The church office phone number is 802-785-2915.